Jaipur Tour Package Cheapest Tour Packages 7 Day 6 Night Jaipur Tour
We offer JaipurTour Packages from Bareilly. Jaipur Tourism can arrange your tour from Bareilly to Nainital. You just inform us where to go, when to go and how much you can afford, we will do the rest for you. 
Our Jaipur Tour Packages
Jaipur Holidays invites you from Bareilly to J aipurto enjoy the beauty and hospitality of Jaipur. We provide standard, deluxe and luxury Jaipiur Honeymoon Packages from Bareilly. We welcome you to enjoy Jaipur Travel Packages through our dedicated tour company. We are the leading Jaipur Tour Operator having very good alliance with Agra Hotels. We welcome you to enjoy the beauty and hospitality of Agra.
Our mission is "Personalised Holiday Service with value for Money".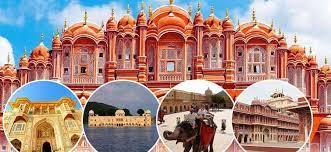 | Jaipur  Tour Packages | No. of Days | Price* |
| --- | --- | --- |
| Mesmerizing Beautiful Jal Mahal | 7 days/6 nights | For Best Offer & Deals  |
| Beautiful Jaipur | 4 days/3 nights | For Best Offer & Deals  |
| Magic – Jaipur | 5 days/4 nights | For Best Offer & Deals  |
| Pink City Agra  | 7 days/6 nights | For Best Offer & Deals  |
Most Popular Visiting Places In Jaipur
Standing in the middle of the Man Sagar Lake, Jal Mahal is a spectacular five-storied palace that features the Rajput style of architecture. It was built as a hunting lodge for the rulers of this land. When the lake is full, four of these stories remain submerged under the water and only the top one remains visible. The palace is off-limits for visitors, but you can always enjoy its picturesque view by taking a boat ride in the lake.
Hawa Mahal is a five-storied pyramidal edifice constructed out of red and pink sandstone and is among the most popular tourist places to visit in Jaipur. Built by Maharaja Sawai Pratap Singh in 1799, it features 953 small windows and looks like a honeycombed hive. The interior chambers of this building enjoy a cooling effect due to the breeze blowing in through its incredible lattice of windows. If you climb to the top of the Hawa Mahal, you can get amazing views of the City Palace and the Jantar Mantar from there
Located in the heart of the city, the City Palace is one of the most remarkable tourist attractions in Jaipur. The architecture of this palace is a splendid blend of Rajput and Mughal styles. Flawless engravings and fine artworks lend this place a distinct beauty. Adorned with sprawling gardens, courtyards, halls, royal residences, and art galleries, every part of this palace reflects Rajputana glory. The palace also houses a museum where you will come across the royal garments used by Maharaja Sawai Man Singh II and Maharaja Sawai Madho Singh I.
The rocky ridges of the Aravali Hills cradle Nahargarh Fort, a majestic monument that overlooks Jaipur and offers a stunning view of the city's landscape. Built in 1734 by Jai Singh II, the then Maharaja of Jaipur, Nahargarh Fort was part of the city's defense circle, along with Amer Fort and Jaigarh Fort. The fort served as a hunting retreat for the royal family. Today it is a splendid viewpoint to watch glorious sunsets over the Pink City.
A majestic fort with a hilltop setting and an opulent palace within its premises – that's Amber Fort and Palace for you. One of the most iconic forts in Jaipur, Amber Fort is steeped in history and remains a glorious example of architectural brilliance. The fort includes magnificent structures like the Sheesh Mahal, Shukh Niwas, and the Diwan-e-Khas or Hall of Private Audience. The light and sound show held here every evening brings alive the fort and its history, which is something you must not miss out on.
Jaipur Zoo is home to around 50 species of mammals, birds, and reptiles. If you are traveling with kids, a visit to the zoo will be one of the most interesting things to do in Jaipur. Spend a day here enjoying the lush greenery of the zoo, in the company of leopards, bear, deer, peacocks, cockatoos, etc.
Outstation Cabs from Noida to Haldwani
Outstation Taxi from Noida to Rudrapur
Outstation Cabs from Noida to Nainital
Outstation Cabs from Noida to Rani khet, Almora
Outstation Cabs from Noida to Pithoragarh
Outstation Cabs from Noida to Ramnagar Jim Carbote Park
Outstation Cabs from Noida to Kashipur
Outstation Cabs from Noida to Agra
Outstation Taxi from Noida to Mathura
Outstation Cabs from Noida to Etawah
Outstation Cabs from Noida to Aligarh
Outstation Cabs from Noida to Kashganj
Outstation Cabs from Noida to Mainpuri
Outstation Cabs from Noida to Shaharanpur